There are two great days in a person's life – the day we are born and the day we discover why. — William Barclay
As you may know, today is internationally hailed as one of the most important days of the year: National Star Wars Day (i.e., because the date, May 4th, can be turned into a pun on the classic Star Wars phrase: "May the force/fourth be with you").
However, a lesser known fact is that today is also my birthday. Cue the streamers and strobe lights!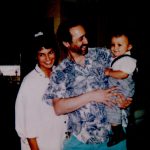 And as today is my birthday, I figured I would talk about a little birthday psychology.
As humans, we are typically trying to better or improve ourselves. Or if not that, at least we tend to believe that our life will get better in the future. In this manner, we tend to hold two views of ourselves:
On the one hand, we have the current version of ourselves (which we'll call Present-Jake) while at the same time we also imagine a version of ourselves in the future (which we'll call Future-Jake).
Now, as I already pointed out, we tend to imagine Future-Jake is better off than Present-Jake, which—and this is important here—naturally implies differences between the two.
For example, Present-Jake imagines that Future-Jake will be a better writer, researcher, and peanut butter and jelly sandwich maker than Present-Jake is. However, Present-Jake still recognizes that in order to attain this future, improved version, he has to be motivated to actually engage in behaviors that will enhance these skills.
And typically, throughout our days, we do this: we want to be better at things, so we practice those activities to improve.
However, around our birthdays that motivation to improve skyrockets.
That is, when it comes near the time of our birthdays, we begin to imagine Future-Jake as very distinct from Present-Jake. For example, whereas I typically imagine Future-Jake as being a marginally better writer, researcher, and PB&J maker than Present-Jake, when it nears my birthday (or even when I'm just thinking about my birthday) I imagine Future-Jake as much better at all of those things.
In this regard, because I begin to imagine that Future-Jake is supposed to be way better than Present-Jake, my motivation is suddenly like, "Whoa! We're way behind schedule! We need to step up the pace here!"
The researchers attest that birthdays serve as "temporal landmarks," which make us perceive our future selves as more distinct from our current selves—which in turn makes us more motivated to attain the improvements we perceive our future selves will have.
For this birthday, however, I set my sights relatively low, so if I can get through my conference talk this year without being wildly hungover, I'll consider Future-Jake was achieved.
Birthday Boy,
jdt
Peetz, J., & Wilson, A. E. (2013). The post-birthday world: Consequences of temporal landmarks for temporal self-appraisal and motivation. Journal of personality and social psychology, 104(2), 249.