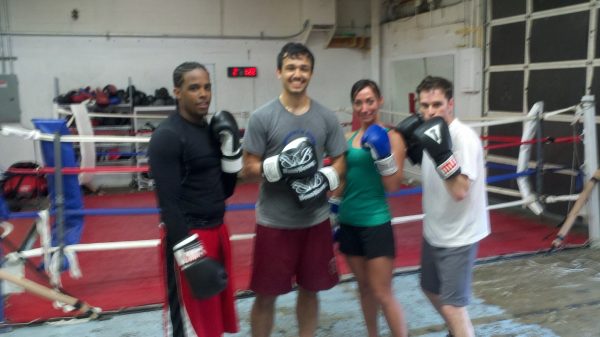 A computer once beat me at chess, but it was no match for me at kickboxing. — Emo Philips
Getting punched in the face, as you might imagine, hurts. Getting kicked there, hurts worse.
It's been about four months into my training to become an unstoppable, killing machine. But the only aforementioned "killing" I've done has been self-inflicted.
I work out about two hours Monday through Friday, sometimes less, rarely more, and I am definitely improving. But then again, if you went to revamp an old, rundown house and began with simply replacing a door knob, that, too, would count as improvement.
I would certainly call my progress more than a doorknob, though; I've at least added a new faucet or two.
To be honest, my greatest improvement has been when I stood in the ring, flailing my arms, taking gloves to the face, kicks to the legs, crying, ducking, weaving, begging for it to end. You can run drills till your shoulders are putty, but nothing trains your reaction time or expectation like sparring.
Though the hours I spend in front of the mirror, shirtless of course, admiring my new muscles while shadow boxing has helped me improve as well.
Blasting the theme song to Rocky has not.
To compete in MMA, though, not only do you need proficiency in stand-up fighting (punches and kicks) but also in ground game (wrestling and jiu jitsu). And while I enjoy wrestling and jiu jitsu, I do not enjoy getting my butt handed to me—and I mean literally, here.
I've "rolled" (the jiu jitsu term for sparring) with a twelve-year-old and he was able to contort me to the point where I was staring at the back of my thigh.
Now, I like to think I have a manageable ego. And by manageable I mean that everyone knows it exists, but it's not irritating enough to confront me about it (snickering behind my back suffices). But in jiu jitsu class after jiu jitsu class, where I continually lose to guys thirty pounds less than me, it becomes wearing on my pride.
So I quit that for the moment.
With bags, though, I get to feel like a boss. Ain't no bag gonna to be dissing my mother without some serious repercussions. (Though I did hurt my wrist when I punched at an awkward angle.)
Overall, though, I've really enjoyed the whole training experience and would highly recommend it to anyone looking to get in shape. When running on a treadmill makes you feel too much like a gerbil in a ball, try boxing. You'll still feel a little like a gerbil in a ball, but you add a hungry cat to the mix.
Fiercely,
jdt
P.S. I've been going through updates on the site, so many people didn't get my last post–I can only imagine your horror at realizing that right now. But actually, it was a pretty good one. I composed the musics and lyrics to my first ever rap, so check it out 🙂