It is better to travel well than to arrive. – Buddha
Well, if you read the title, you'd realize this is part due ("two" in Italian; pronounced "DUE-eh") of Zach and my travels through Italy. So if you forgot where I left off, let me give you a brief recap:
Read the last paragraph of my previous post. Now, to continue–
After settling into our Bologna hotel (oh, was it nice to have a room to ourselves!), we walked 10 minutes into town where we climbed a 498-stair tower, meandered about the piazza, and walked the main throughway of stores, restaurants, and street performers—who, compared to American street performers, should have just been called "street people doing things other than walking").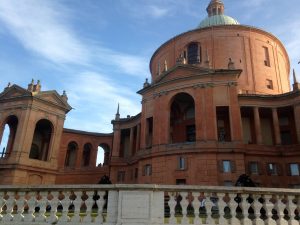 In the evening, we returned to the hotel to clean up before going out to revel with the college students; however, as Zach tried the shower, he only got cold water.
In his mind, this meant he could whine incessantly and I should care/have sympathy for him. However, after I reminded him that I had taken cold water, bucket showers in Thailand for 4 months, he decided intermittent shrieks would serve his purpose instead.
Finally, when he exited I asked: "Did you even try to see if the hot and cold handles had been switched?" At which point a chagrinned look overtook his face.
He hadn't.
So after we both had hot showers, we imbibed a rather large quantity of cheap rum and gallivanted into the night.
The next morning, we set out to see the "Monastery on the Hill." Because we had to take the bus to get there, we returned to a restaurant we had eaten at previously (where we still had their wifi password saved in our phones) and devised a course.
And after 30 minutes and two bus transfers, we arrived safely and ascended the 660 arches leading up to the beautiful monastery. On our return trip, however, there were some complications…
The bus supposed to take us back—the only way we knew how to get back—was no longer coming to the original stop because of an accident. So after following a police officer's pointing hand, we headed toward an alternate stop.
Here, that bus did not come.
After trying in vain to find wifi, we decided it was our best option to just "start walking" in the direction we assumed we were supposed to go. After 15 minutes of this, though, we realized how far away we were, and, in "thunder-gun" fashion, jumped on a random bus heading that direction.
Ten minutes into this ride, though, and we both were beginning to wonder: A) Was this bus even going the right direction? and B) What the hell direction were we even supposed to be going? So jumping off this one and finding another that "felt" right, we rode onward.
Fatefully, subconsciously, divine interventionally, we somehow grabbed the one other bus that miraculously took us back to our hotel.
I agree. We should have purchased lottery tickets this trip.
So slinging on our humongous travel backpacks, we rushed to the train station, again sprinted to our train (we had a cushion of 3 minutes between sitting down and the train leaving), and headed off to Florence—the birthplace of the Renaissance.
Luckily,
jdt