Nobody beats Vitas Gerulaitis 17 times in a row. — Vitas Gerulaitis after beating Jimmy Connors following 16 consecutive losses to him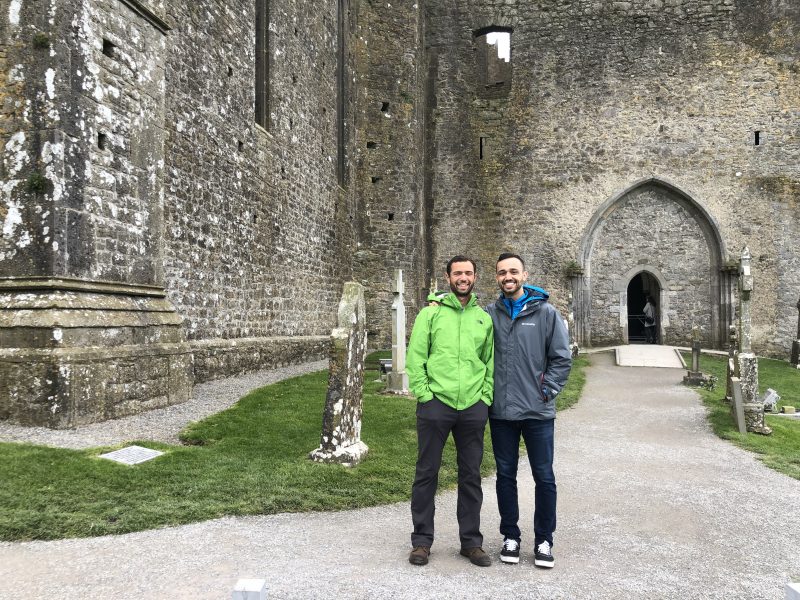 Did you miss me? Wait, don't answer that. My fragile ego couldn't take the truth unless it were a resounding "yes OH YES I did!"
Regardless of your answer (though I'll imagine it was the one above), I've spent the last few weeks traveling through Ireland, Scotland, and back to Portland, OR, before finally settling down in Columbus. And so, with a few weeks between my last post and this one, what better topic to kick us into the Everyday-Psychophilosophy-gear than the psychology of team comebacks!
"IT'S NOT ME, IT'S YOU"
Even if you're not a sports fan, everyone likes the story of a good comeback. As I've discussed before, we have a psychological predisposition to root for the underdog, and you have to be something of an underdog (even temporarily) to make a 'comeback.'
Now, for those who follow the NBA, you may have seen that my beloved Portland Trailblazers made the Western Conference Finals for the first time since 2000! Unfortunately (for Blazer fans), they lost this series of games (to the Golden State Warriors) very quickly.
Interestingly, if you watched any of these games, though, the Blazers were often winning throughout the game and doing so by a lot. However, the Warriors consistently made comebacks, outscoring the Blazers when the final buzzer sounded.
Which begs the question: Did the Warriors' improvement over the game lead to their victory? Or was it the Blazers' decline?
When looking at the psychology of comebacks, evidence tends to support the latter interpretation. That is, comebacks (typically studied in sports but also applicable to a number of group-oriented competitions, from the military to trivia teams) are the result of what's called collective collapse.
Collective collapse is when the majority of team members perform below their expected level or ability. Usually, collective collapse happens in important or decisive competitions (as with the Blazers), where there is a sudden decrement in performance that even the players and their coaches have trouble explaining.
So where does this poor performance suddenly come from?
EMOTIONAL CONTAGION
It is a common and widespread finding in psychology that our emotions spread strongly and quickly between those we're in contact with. That is, emotional contagion is the phenomenon whereby moods and emotions of one individual are transferred (often non-consciously and non-verbally) to other people.
And importantly, research shows that negative (vs. positive) emotions/moods are more easily and likely to spread.
Thinking about the psychology of comebacks, imagine a soccer team that is winning 3-0. When the trailing team scores (making it 3-1), the winning team's emotions/moods become more negative. This negativity then spreads between teammates even more strongly than the good mood does for the losing team that just scored.
And as that negativity builds in the winning team, they start to perform worse and worse. That is, research shows that negative emotions/moods lead to worse cooperation and cohesiveness between team members, which obviously impairs their overall abilities.
Thus, a single negative experience for the winning side (vs. a positive experience for the losing side) is likely to spread faster through those group members. Consequently, their performance "snowballs" downward as their negative mood gets worse along with their performance. And finally, the other side is able to make the comeback that claims victory!
WAS THIS POST REALLY A "COMEBACK?"
Okay, you caught me. This post wasn't technically a "comeback" in the psychological sense I was talking about it today. But even if it were, it's fortunate that (a) my only other team member is my mom who's notoriously, perpetually cheery, and (b) the only "negative experience" I could have would be someone not being excited for my blog to return.
Which we all agreed wasn't the case, right? 😉
Camebackly,
jdt
Psych·o·philosophy to Ponder: What can you do if you're on a team and you sense a collective collapse is impending? Here are some strategies to try to employ to keep your team from letting the 'underdog' usurp your victory:
Have a team captain or leader who is able to maintain order and cohesion of the team
Encourage a team-wide positive mood by visibly expressing good mood yourself
Be ready to improvise—changing one's current plan of action can help restore order as well as a hope (which can improve people's mood)
Maintain respectful communication between all parties to again promote cohesion and positive mood
Apitzsch, E. (2006). Collective collapse in team sports: A theoretical approach. Current research topics in exercise and sport psychology in Europe, 35-46.