I wish my name was Brian because maybe sometimes people would misspell my name and call me Brain. that's like a free compliment and you don't even gotta be smart to notice it. — Mitch Hedberg
When it comes to playing video games, my friends and siblings always makes fun of me for how long it takes to name my character. (Which has earned me the nickname: "Noooo! Don't let Jake name his character! We'll never play!")
Now, although I may be putting too much effort into what title my Night Elf hunter goes by, when it comes to names more broadly (for babies, puppies, cars, etc.), people tend to consider them very carefully.
Why?
Because we believe names are powerful. And up to a point, they are.
For example, there's the classic psychological phenomenon known as the "cocktail party effect," where even when you're at a loud party, in a focused conversation, you can still hear your name said on the other side of the room.
Over the years, our brains wire themselves to place a special significance on that particular sound, so even when someone says something close to your name, your brain signals, Important!, and you turn to search for the source of your name.
But that's only just the beginning: for not only can your name just turn your head, but it can also help determine where you work and who you marry.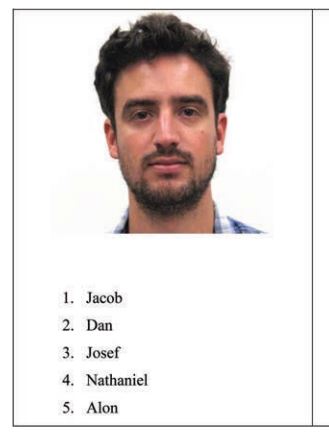 Research conducted in both Belgium and the United States showed that people were statistically more likely to work for companies that shared their initials compared to companies that did not. Furthermore, there is also a better than average chance that you will marry someone who shares your initials or has a similar name to you.
In fact, very recent research even shows that over time, you actually come to look like your name…
In the first set of studies by this research team, they presented participants with faces and had them try to choose the person's actual name from a list of five possibilities (see right). Now, if this selection were based on chance alone, we would expect participants to choose the right name about 20% of the time. But to quote the findings:
For 17 of the 20 faces presented (85%), participants accurately matched the true name of the person depicted above chance level (20%), despite having no information other than the target face on which to base their choice. (p. 6)
More impressively, when using computer algorithms to predict the names of over 94,000 faces, the computer, too, was able to match names with faces above chance level—which leads us to conclude that, over time, we actually come to look like our names…
Within a culture, we have stereotypes for certain names. For example, "Velma" sounds like a bookish person's name (thanks Scooby-Do), while a name like "Karen" sounds more extroverted. As a result, people tend to treat us (and then we come to act in line with that treatment) in ways that fulfill the "prophecy" of our names.
For example, in the previously mentioned research, these scientists showed that people's hair often serves as a signal for how much the name matches the face. And because our hairstyle is within our control, we can subsequently influence how much we match our name.
Other facial regions also influence the name-face match, such as the lips and eyes. Again, we have a lot of control over these muscles, which in turn allows us to shift (often unconsciously) how much we resemble our name.
However, don't begin to fret if you feel like your life would have been totally different if you were named "Simone." For although the above mentioned findings are fascinating, they're not all-defining. For example, take the case of a father who named one son Winner and the other Loser (a true story, see Freakanomics).
Although you may think those names would lead to particular outcomes, Winner ended up a criminal, in and out of jail his whole life, while Loser (who goes by Lou) ended up as the sergeant of a police station.
Namely,
jdt
Psychophilosophy to Ponder: What are some other things you have names for and how do those influence your perception of them? For example, I used to have a car I named the Dung Beetle (really, it looked like a dung beetle). However, after calling it that time-and-time again, how do you think it influenced my perception of the car? Similar things can happen for brands, pets, or even–wait for it–video game characters! (see? it was worth my time to come up with the perfect name of BleedingSwordArrowHawk).
Anseel, F., & Duyck, W. (2008). Unconscious applicants: A systematic test of the name-letter effect. Psychological Science, 19(10), 1059-1061.
Lea, M. A., Thomas, R. D., Lamkin, N. A., & Bell, A. (2007). Who do you look like? Evidence of facial stereotypes for male names. Psychonomic bulletin & review, 14(5), 901-907.
Zwebner, Y., Sellier, A. L., Rosenfeld, N., Goldenberg, J., & Mayo, R. (2017). We Look Like Our Names: The Manifestation of Name Stereotypes in Facial Appearance. Journal of personality and social psychology.